Browsing articles tagged with " opinion"
I'm driving my car down Collins Avenue, on the way to see a prospect this morning and something dawns on me as I wind my way through the communities between Sunny Isles Beach and Miami Beach. Everywhere I look, there's a building in some stage of renovation or new construction and I am thoroughly confused. Yesterday, I was not far from the same place, making my way to another part of town just off of interstate 95 and NW 27th Street and the scene was nothing like what I saw along the thin strip of waterfront roadway that is Collins Avenue. I was impressed by the immaculate St. Regis that had been built somewhat recently in Bal Harbor, then there were several new lofts and commercial spaces that had been completed near NE 71st street and Collins that I had not seen completed the last time I had been through here.
NW 27th street was a completely different story, no manicured landscape, new construction glass high-rises or anything remotely resembling progress or investment in that area. The streets that bordered the area that I was visiting, specifically NW 7th Avenue and Martin Luther King Jr. Blvd were a testament to hard times. Nearly every block or so there was a vacant commercial space and the ones that were left, look more like they belong in pre-earthquake Haiti. Despite the almost next door proximity of this area to Downtown Miami and Brickell, there was no sign of the rebuilding going on or any new tenants rushing to turn this once booming fashion district into anything other than a ghetto.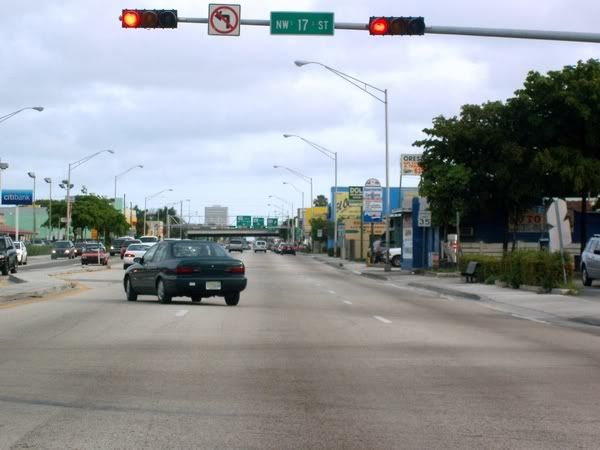 As I continued to drive further South I was greeted by what looked like many workers setting up at the docks and marinas bordering the inter-coastal waterway near NE 45th Street for a boat (yacht) show with glamorous tents alongside the docks waiting to greet billionaires who just got off their lear jets looking for their next toy. Somehow, this didn't make sense to me. I live in a wealthy part of town, Aventura, where wealth has been building for a long time, but compared to the pristine new real estate and commercial spaces that are in construction in North Miami Beach, I live in the 'hood. However, compared to the rundown, unkempt, derelict neighborhoods surrounding downtown to the Northwest, I live in Shangrila.
So back to my confusion; where did all of this development come from? To stroll the streets of Bal Harbor, you would think the past ten years have been nothing but good times for all. The Bal Harbour Shoppes look no worse for the wear from the last recession and the condo buildings are still going up as if 2007′s peak never happened. It's as though nobody learned anything about excessive debt and the process of deleveraging hasn't happened. On the other hand, back in the neighborhood along NW 7th Avenue, the recession took down with it nearly every car dealership, retail chain and a whole lot of jobs. If there was a recovery in the economy of Miami, it has been more than unfairly deposited between Hallandale Beach and South Beach, and nowhere else.
There ought to be real fear amongst the people living in the new high rises and pristine communities that have spread across Coastal Miami-Dade County. Miami has been recently voted the most Miserable City in America and Ft. Lauderdale and West Palm Beach are not far behind on the list according to Forbes Magazine. The people living here who are not benefiting from the renewed interest in developing coastal areas are still facing some of the worst economic conditions this place has ever participated in. If this were New York or Washington D.C. the occupy movements would be larger than life, spreading throughout the lobbies of many beautiful condominium buildings and hotels, wreaking havoc on residents halcyon ways of life and scaring off tourists.
But this is not New York, this is Miami, where more than 2/3 of the residents speak with some sort of accent. Most are first generation immigrants and many are escaping far worse conditions in third world countries run by illegitimate governments and life-long dictators. These people have seen far worse than an unfair distribution of wealth and if you speak candidly about it, many of them complain that there are certain aspects of living in the United States that make it more difficult to maintain their former standard of living that they enjoyed in their home country. For example, my housekeeper used to have several servants in Haiti working in her home, one to cook, another to nanny and she can't afford to hire people like that here because they're too expensive.
So much of the inequality in Miami is relative to where you come from and I am from Los Angeles, where inequality is a way of life. In LA, there were no Occupy movements when Rodney King was dragged out of his car and beaten by 6 LAPD officers; there were massive riots, schools were closed, and nearly everyone got a new TV in the looting. My school district was in Los Angeles County, but far enough away from the urban neighborhoods where the action was happening that we still had to go to school, but we could see the smoke from the fires set by angry protesters/rioters in the distance. The thought of those people coming and taking their frustrations out on our rich suburb scared us and everyone wanted answers from the Sheriff's department as to when the city might be taken back from the angry hoard of looters. That didn't happen until the National Guard stepped in and this was no Hurricane Katrina relief effort, they brought their guns and looters were shot.
To me, Miami is just an incident away from this kind of all out rioting. Years ago, there was an incident of rioting, but there hasn't been anything like it since. The difference between L.A. and Miami is the proximity between the ghettos and the multi-billion dollar real estate. It would not take much for the people who are truly suffering from hardships and poverty to vent their frustrations on the nearby ultra-rich parts of Downtown experiencing a renaissance of development. So therefore I am confused, what was at the heart of the real estate bust? Was the problem that loans were given to borrowers who couldn't pay them, or was it that the rich received massive bailouts and the same bankers and investors in Wall Street who caused the disaster were allowed to go Scott free while millions lost their homes. I guess we haven't learned a thing in Miami because at one point, there were too many new condos to sell, now they can't build them fast enough in some areas.
My final point on this whole situation is that anytime a system like the economy gets as far out of balance there is always a re-balancing and it's not done gracefully or without pain.
Archives
Error: Twitter did not respond. Please wait a few minutes and refresh this page.